1. Ilkal Sari
Ilkal is a town in Bagalkot district in North Karnataka. It is famous for its unique style of saree that is popular in Maharashtra too to the extent that it has been adopted as the typical Maharashtrian saree.
The design of Ilkal sarees is fairly basic. A colored body (which may be plain or with checks) with contrasting borders and pallu, usually in darker colors. Common colors for the borders and pallu are red/maroon, dark blue, and green. Body colors consist of green, red, black, blue, and sometimes yellow. The pallu consists of two or three off-white stripes, several inches in width, alternated with whatever colors that the borders are in.
The distinctive feature of Ilkal saris is the use of a form of embroidery called Kasuti. The designs used in Kasuti reflect traditional patterns like palanquins, elephants and lotuses which are embroidered onto Ilkal saris. These saris are usually 9 yards in length and the pallu of the Ilkal sari (the part worn over the shoulder) carries designs of temple towers. This pallu is usually made of red silk with white patterns. The end region of the pallu is made up of patterns of different shapes like hanige (comb), koti kammli (fort ramparts), toputenne (jowar) and rampa (mountain range).
The border of the sari is very broad (4 to 6 inches), red or maroon in colour and is made of different designs with ochre patterns. The sari is either made of cotton, or a mixture of cotton and silk or in pure silk. The colors traditionally used are pomegranate red, brilliant peacock green and parrot green. The saris that are made for bridal wear are made of a particular colour called Giri Kumukum which is associated with the sindhoor worn by the wives of priests in this region.
Types of Borders
The design woven in the length wise borders are mainly three types. Gomi (more popularly known as Ilkal dadi), Paraspet (sub-divided into chikki paras and dodd paras), Gaadi and Jari.
Main Body design
This consists of Stripes, Rectangles and Squares.
Other Differences
With the above broad parameters the Ilkal saris differ in matter of size, nature and quality of yarn used for different portions of a sari as also colour combination and combinations of designs on the borders and main body of the sari. The beauty of Tope-teni seragu is further enhanced at times by weaving in its middle portion, yet another design known as Kyadgi.
Production
Weaving of Ilkal saris is a household enterprise that has active participation of female members. It takes about seven days to weave a saree when handloom is used.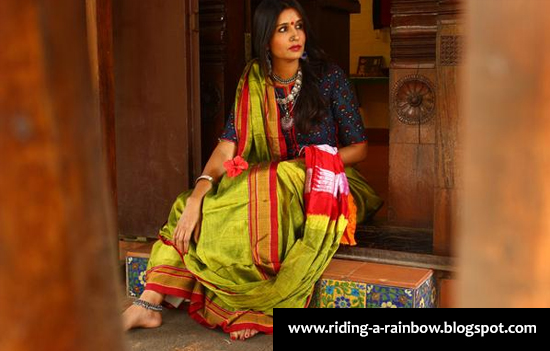 2. Mysore Silk
Mysore silk is known for its unique texture more than design. It is relatively light and easy to drape, similar to chiffon fabrics in nature. Indeed, with Karnataka being among the leading states for sericulture in India, it is hardly surprising that it is home to a significant silk weaving industry even though this is less widespread than cotton weaving. (with China getting into sericulture I do not know how much of Mysore silk used is local).
Mysore silk sarees are relatively simple in design, typically featuring zari borders and stripes in the pallu, with the typical examples having the borders and pallu dyed in contrasting colors to the body. Unlike Ilkal sarees Mysore silk sarees do not have the borders woven separately, but rather are dyed in such a way that the borders and pallu contrast with the body. There are some examples in solid colors.
3. Gomi Teni
This cotton sari was popular in the 12th century. As the motif used on the saris was the gomi teni or jowar stalks (closely resembling the herringbone pattern), it was considered a symbol of prosperity and was gifted to pregnant women and worn during the harvest festival, Sankranti.
Handwoven on frame looms, the saris bear checkered patterns in contrasting shades. For instance, a black sari has been contrasted with white checks. The colour combinations are contemporary. Traditionally the colours used were predominantly red and yellow.
Gomi Teni sari does have the motif of the sari resembling a jowar, the crop. It symbolises prosperity.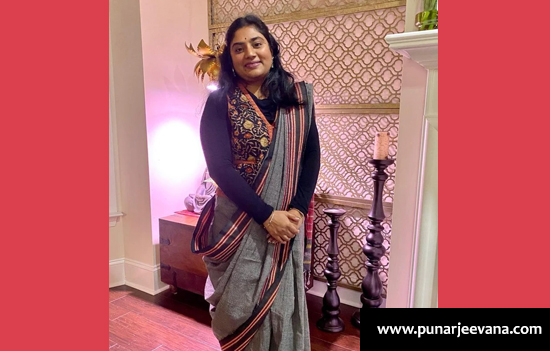 4. Patteda Anchu
Patteda anchu saree was woven in and around the villages of Gajendragarh, Belgaum, Raichur, Kodal, Bidar, Bellary, Gulbarga and Dharwad in the 10th Century. This saree is named after its border and checks pattern but is also known as dundina seere, devaru seere, laxmi seere or pooja seere.
Made in cotton, it was specifically designed for women working in farms, being only 38" wide and 6 yards in a coarse 20's count.
The saree has a specific colour palette including mustard, maroon, pink and green. As the saree is offered to goddess Yellamma Saundatti, the local deity of Gajendragarh village, the colour black is not used.
Patteda anchu wedding saris are normally woven in shades of red checks with broad mustard border and is considered very auspicious. The present collection is made of mill made yarns dyed with eco-friendly dyes woven on handloom. This collection was executed to reach mass and give sustainable work to artisan.
Patteda Anchu sarees are handwoven from the handloom hub of Gajendragarh, Karnataka. The villages in and around the hub are equipped with hand weaving. This traditional saree has been revived with special features like the reversible nature of the saree and the specially engineered border which is already coarse and does not require additional fall or beading to be done, making this a ready to drape saree.
Traditionally, the colour format of the sari was red and chocolate brown with a yellow border. It took me more than six months to convince the weavers to use the colour black. We also increased the body width to 45 inches. The technicalities remained more or less the same and the colour weave effect was done with plain weave. One tries to keep it as authentic as possible, and of late, the entry of power looms weaving the same saris have altered the patterns – the checks mostly.
5. Molakalmuru Saree: A Traditional Beauty Made in Karnataka!
The exquisite Molakalmuru Sari saree derives its name from the town that it originated and is woven in. Situated in Chitradurga district it is about 245 kms from the state's capital Bengaluru.
The fabric used provides it with a particularly desirable texture. These sarees are made from pure silk with the mulberry variety being used prominently throughout. Additionally zari is utilized in the making of the saree i.e. procured from Surat.
These sarees possess intricate and elegant designs upon them which are also commonly referred to as motifs. They have varied themes, mostly derived from nature, such as floral prints, animals, the wilderness, fruits and birds.
Apart from these, geometric and symmetrical patterns are also quite popular in today's era.
Molakalmuru sarees give off an ethnic aura and traditional impression which truly makes one feel closer to their culture as well as heritage and how can one forget the pallu i.e. truly magnificent. Furthermore, the zari border is another unmissable element of these sarees as it presents a contrast to the saree and simply stands out. It is also worth noting that the color of the pallu also differs from the body of the saree. These sarees are mostly dark colored with widely used colours being blue, pink, black, green, mustard, red, and more.
The fabrication of these sarees is done by utilizing traditional handlooms or pit looms with a fly and a throw shuttle. For this they use chiefly two techniques, the first being Kuttu. This elaborate technique requires hard work as it involves manually interlacing the border and the body of the saree by the use of a total of three throw shuttles: one for the body, one for the border, and another one for the pallu. The second one is the Chalu Technique, which involves joining the existing and new warp ends of the pallu. The coloring of these sarees requires the use of the tie and dye method. By the application of these, a single Molakalmuru Saree is made within approximately eight days.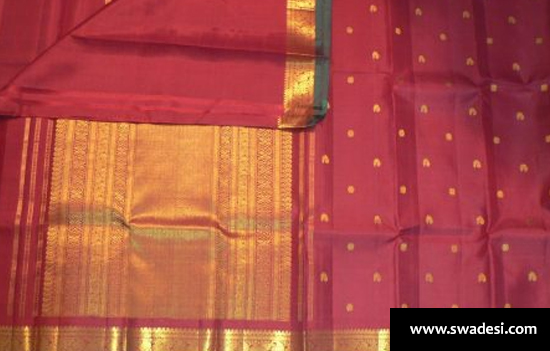 6. Udupi Saree
Traditional Udupi saree is one of the richest variety of cotton sarees in Karnataka. Handwoven Udupi sarees show incomparable versatility of skilled hands that create them. They are woven in Frame looms, also known as Malabar looms. Sarees with plain solid border, extra warp and cross border designs add to its uniqueness. The checks sarees with golden or silver threads with contrasting pallu and border strengthens its aesthetics and richness.
​The Udupi Saree Weavers have begun to weave their magic again!
From a thread of colour is woven a saree that shines. That's how a saree was traditionally woven – by hand through a loom that was rocked like a mother rocks the cradle that holds her child – with love and a benevolent smile as her loom gently weaved the saree that another would wear.
The weaver's hand is fundamental to fabric creation: punctilious attention to design, selection of the precious yarns and precise workmanship are the elements that set its quality apart and make all such products exclusive examples of artisan excellence.
The Udupi handwoven saree is one of the finest examples of hand weavesin the country. It is rich in texture and in culture. The saree has a varied combination of vivid bright colours on the border and the pallu, made from natural dye or starch for the colour, with yarn. The combed cotton yarn is then used to make the saree consisting of counts 80" to 60" (higher the count, more the thickness and the softness of the saree). It is purely hand woven on a hand-driven loom.
The origin of weaving in Udupi
The history of Udupi sarees traces its roots to the Malabar frame looms that were bought by the Basel Mission. (They started industrial training in weaving in south India in the 1840s). Today they are barely a part of our society. It was also a part of the Swaraj movement – the boycott of western goods.
Handlooms are not just traditional to our culture, but also a livelihood for our forefathers. There is a lesson to be learnt too. In the words of John Piper, "We look at life from the backside of the tapestry. And most of the time, what we see is loose threads, tangled knots, and the like. But occasionally, God's light shines through the tapestry, and we get a glimpse of the larger design with God weaving together the darks and lights of existence."
What's Special
These handloom sarees are made with combed cotton yarn of counts 80″and 60″ for weft. The speciality of Udupi Sarees is that the pallu and borders are bright.
The pallu is dyed in dark shades before weaving and extra weft designs are woven in attractive colours. For the warp, a tie and dye method is always vividly applied. First, the entire warp of the sari is dyed with one colour and for pallu another type of dye is applied.
The practice of 'loom sizing' is used with natural starch solution applied to warps to strengthen the yarn. The sizing material is directly applied to the yarn while weaving is in progress.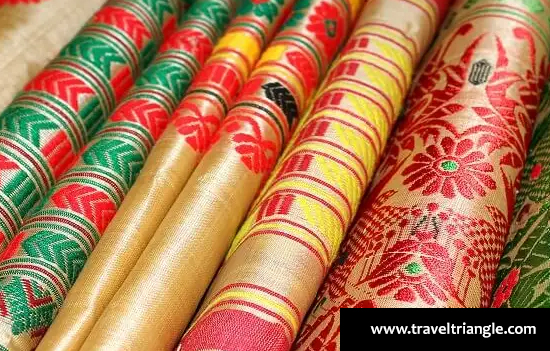 7. Kasuti: Dharwad Saree
Originating from Dharwad this pure handloom cotton collection features its signature cross-stitch embroidery called Kasuti. Synonymous with a plain body and a subtle, contrasting border, these sarees have evolved with changing times. They are hand-woven with exquisite embroidered motifs and are available in a myriad range of palettes and patterns.
Dharwad has sparked interest in cotton creations of a new kind. The cotton yarn is itself coloured due to path breaking experiments that have developed these colour cottons. Grown without genetic modification, these cottons are available in natural colours of brown in light and dark shades.
The speciality of Dharwad Cotton Sarees
The pure handloom cotton sarees from Dharwad are soft, fine variety cottons in several natural colours. The Dharwad cotton saree is known for its attractive border and appealing floral print designer pallu or end piece. The introduction of Kasuti, the intricate embroidery of the royal courts in Karnataka for cotton fabrics stands out very nicely for the colours chosen, the thread work art and the complex stitching. In addition, the borders are very appealing with plain multi-colour or temple design patterns chosen.
Dharwad cotton sarees have rich pallu and the border of the sari is decorated with zari designs. The cotton saris are rich in colours and hues. These sarees are airy, comfortable to wear and light in weight. They have many motifs, patterns, geometrical patterns and zari buttis.
One of the most popular fabric is Dharwad silk. It is a well-known place for traditional and pure silk sarees. Cotton sarees are apt for daily casual and summer wear. Dharwad is well-known for traditional, pure silk and pure cotton sarees. Dharwad cotton sarees are durable and fine cotton cloth is available in an amazing range of traditionally authentic styles. These sarees have all over geometric stair step ornaments on the ground and bold zari border.
The black and light grey with green dharwad cotton sari has alternate black and light grey horizontal bands with zari embroidered buttis and a green patch border on the blouse. The plain green cotton sari is a fitting contrast. The green dharwad cotton sari has a white floral embroidered border and black horizontal stripes on it. This pleasant piece can be used for office, festivals, social events and even casual outings.
The dharwad cotton sari has a unique feature. This fabric goes with any Indian woman. The orange colour poly cotton sari has cut work and green block prints along with chamki work on the blouse. The sari is an orange self-colour floral affair in block prints. The orange with brown and red floral prints at the ends makes it a stylish combination.
This piece would work well for almost any occasion. Some of these sarees have large zari temple motif border and graphic pallu. Dharwad cotton sarees are famous for their unique and traditional designs. These sarees are available in different colors with different combinations. Incredibly fine thread work will astound you.
These sarees are suitable for festivals, such as Diwali, Holi, Dussehra and Pongal traditional occasions and wedding ceremonies. Designer Dharwad cotton sarees are apt for any family gatherings, Parties and Bridal functions.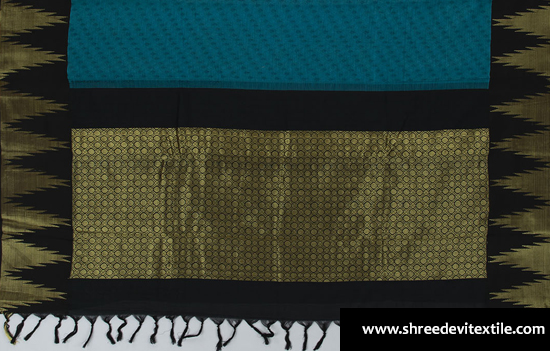 Bron: Esamskriti